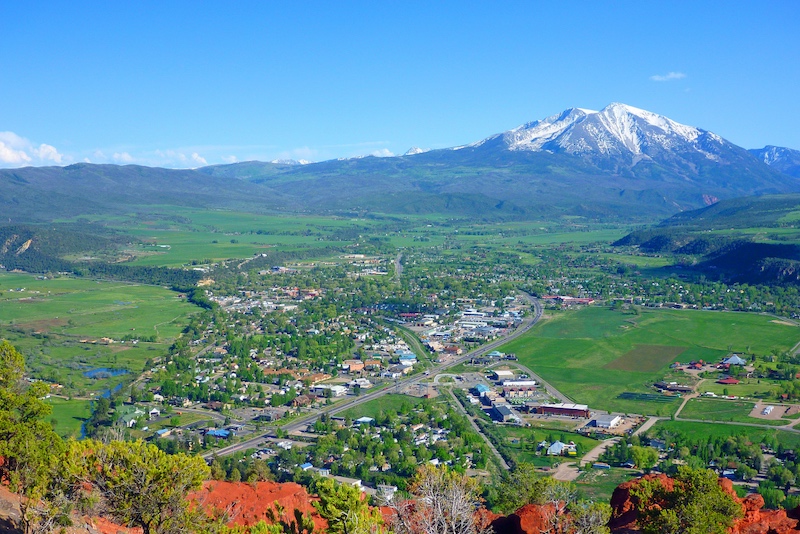 View of Carbondale, Colorado and Mt. Sopris from Red Hill Trails
This is a love story of sorts. About this great town and what an example it is of how — when people, organizations, businesses, and government institutions all work together — amazing things can, will, and do happen.
In this town you will find people who care and take the time to speak to you. They will welcome you into the town and show an interest in you and where you are from. They are ready to assist you or tell you more about this community and all it has to offer.
Our town is 170 miles west of Denver and 30 miles from Aspen in the heart of Colorado's central Rocky Mountains. It's a picturesque place with views of spectacular Mt. Sopris available everywhere you look. It was first occupied by the Ute Indians, then by silver prospectors, cattle ranchers, and potato farmers. With a strong arts and music community, the town embraces its mining, ranching, skiing, and resort identities, and has also become an attractive place for sustainable businesses.
Carbondale residents embrace a sense of community that manifests itself in the promotion of recreation, great dining, art and artists, public radio, renewable energy and resources, community gatherings and events, and a wide range of economic, social, and philosophical viewpoints.
An example of this is at least once a year the town blocks off several streets for a community picnic with so much good food and entertainment. Hundreds of families show up and connect with each other, passing plates and swapping stories.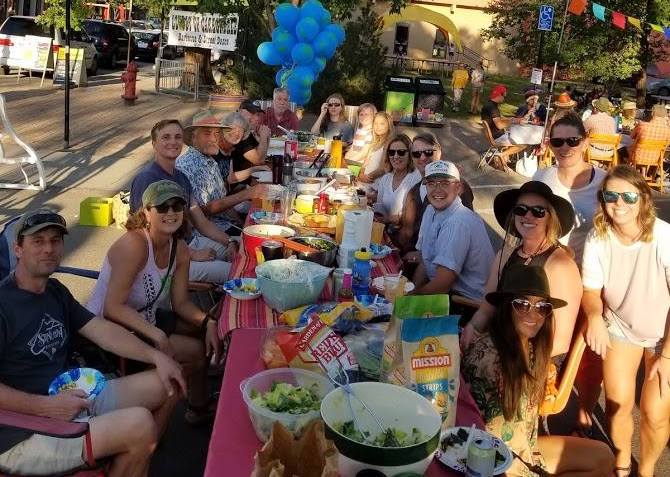 Our Town, One Table Community Dinner
First Fridays in Carbondale is the envy of all the other towns in the valley because of the community this creates and also the business it brings to our merchants. The first Friday evening of every month the Carbondale Chamber blocks off the downtown streets for a block party. All the stores are open for business and many even serve snacks and libations. It's an opportunity for all to get together to see their neighbors and meet others they don't know. The Chamber hosts music, fashion shows and other fun and interesting events in conjunction with First Fridays. Of course, the merchants and restaurants love the crowds celebrating downtown.
Touted as one of the "Top 12 Towns" in the "50 Next Great Places to Live and Play" by National Geographic Adventure magazine, and as one of the "50 Best Places to Live/Most Active Towns" by Men's Journal magazine, Carbondale is a great base camp for recreation enthusiasts, entrepreneurs, ranchers and artists.
We love to get outside here. At an altitude of 6,171 feet, the town boasts an average of 295 days of sunshine, low humidity, cold but mild winters, and comfortable summers. Carbondale offers plenty to do, including biking, hiking, gold-medal fly-fishing, kayaking, and world-class skateboarding.
In winter, excellent cross-country skiing can be found at Spring Gulch, and beautiful snowmobiling and snowshoeing trails are accessible in all directions. World-famous downhill skiing and snowboarding is only 30 miles away in Aspen/Snowmass and 15 miles away at Sunlight Mountain.